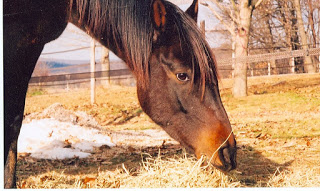 Lucky and I continue to play and learn. Today, we played with wearing his new biothane bridle/halter (thank you Amy for the gift of your lucky tack – that bridle has been on some amazing horses over the years). Lucky seemed quite pleased with the fit and was very relaxed and interested. He did point out some itchy stitching in the cheek pieces,which I will smooth out before our next session.
I also brought out his saddle pad and saddle, and spent time letting him sniff and investigate each one, rubbing him with the pad, and doing TTouches on him until he licked and chewed and had a soft eye. Lucky has a trail pad with pockets sewn in behind the saddle. He was quite curious about the magic pockets on the pad, from which I produced horse treats.
He was very anxious and suspicious about the saddle, and it took several minutes for him to stop guarding and allow me to place the saddle. (We've only been playing bareback recently).
He has some obvious past associations with wearing tack, so every time he got wound up or anxious we just stood while I explored which TTouches he preferred. He particularly enjoyed tail circles and pulls, and python lifts on his back legs. He shows some minor discomfort with leg circles and hock rocking on his right hind,which will be the subject of some future bodywork.
He remembered his fingertip yields at the shoulders and hips, so we mostly played following games while keeping his head in front of my shoulders. Plus we took several breaks for him to munch grass and me to reinforce that eating breaks are by permission with a specific cue.
All in all, a relaxing session that ended on a good note, and he was eager to greet me later tonight.
I find I'm mixing Parelli and TTEAM and conscious horsemanship exercises together, just going with what feels right and what keeps that lovely soft eye and interested attitude.
He's a great teacher, and becoming a good friend.
Until next post, be well and happy.
Carrie & Lucky and the rest of the Oak Hill gang