Winter feeding tips and 2011 show schedule
January 30, 2011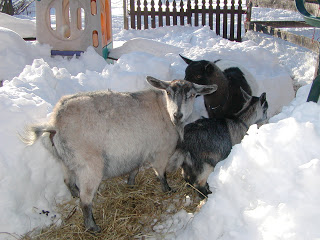 To maintain weight, think fats. Black oil sunflower seeds and/or roasted soybeans. For soybeans, I use the cold extruded whole soybean pellets. A tiny handful goes a long way. Watch out for GMO soybeans.
To maintain body heat, free choice roughage is the best. The roughage generates heat as it breaks down in the body. I prefer grass hays, or grass mixed with alfalfa or clover. I do not feed straight alfalfa because of the high nitrogen, lower fiber content, high protein and the effect on the calcium ratio.
Oats and corn are the most warming grains. I prefer the oats, as so much corn these days is GMO.
I offer a prebiotic/probiotic whenever there is a sudden weather change, or if the animals are otherwise stressed. You can find my favorite prebiotic here. With other brands, make sure they are labeled pre as well as pro.
I offer electrolyte water in addition to plain water. I always make plain water available. My favorite electrolyte has the correct sodium/potassium ratio and a smidge of molasses for taste and energy.
2011 Shows – Come and meet some of the Oak Hill herd!
Myotonic Goat Show @ The Pet Expo Reading, PA March 19
Keystone State Fainting Goat Show @ The Pet Expo Reading, PA March 20
South Mountain Fair Arendtsville, PA August 17
South Mountain Myotonic Goat Show @ The South Mountain Fair August 20
2011 kidding
Kids will start arriving in early March. Stay tuned!
Copyright ©2016 Carrie Eastman.
These statements have not been evaluated by the Food and Drug Administration or American Veterinary Medical Association, and are not intended to diagnose, treat, cure or prevent any disease. Always consult your veterinarian about any changes to your animal's health program.
You May Also Like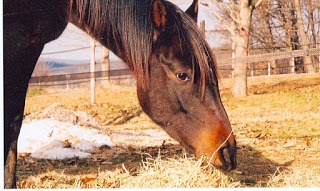 December 12, 2010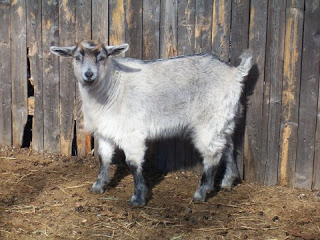 October 26, 2015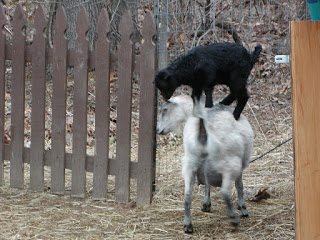 December 6, 2013